New Masters Gallery is proud to offer a large collection of bronze statues for sale by sculptor Gary Lee Price. You can view our collection of bronze statues for sale on our website or visit our gallery on Dolores between Ocean and Seventh in Carmel-by-the-Sea, California.

About artist Gary Lee Price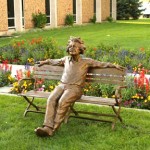 Thousands of pieces of Gary Lee Price art can be found public and private collections throughout the world. One of the largest libraries on the planet, the Hong Kong Central Library, is graced by twelve Gary Lee Price life-size bronze sculptures. This impressive display includes bronzes of intrigued young readers, happy children releasing doves, boys and girls playing with shells in water, some holding beautiful flowers, and others soaring through the air as though weightless. Additionally, two round frogs, "Puffed-Up Princes," are stationed as sentinels at the entrance of the children's library. The 11-foot "Celebration!" featuring joyous children celebrating life and soaring around a globe, was first unveiled in Surrey, England at the American Community Schools.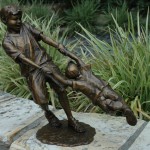 The most recent of these was dedicated in Decatur, Georgia by former First Lady, Rosalyn Carter. A 22-foot version of a similar sculpture is located at the entrance of the corporate headquarters for NuSkin International in Provo, Utah. His 12-foot angel, "Messenger" monument, in Iceland, honors over 400 early immigrants to the United States. Gary's sculpture "Communion," a 15-foot monument portraying touching hands, graces the United Methodist Church of Brentwood, Tennessee. The interaction-of-hands theme has been an important aspect of his work as reflected in other pieces such as "Synergy," Helping Hand," "Ascent," "Circle of Peace," and "Circle of Friends." Uplifting others, helping others, and joining hands with others in brotherhood and sisterhood are essential parts of the life of Gary Lee Price. Perhaps the unexpected and tragic loss of his parents at age six and the subsequent abuse anchored within him the importance of enduring and positive relationships, and of the need to see and depict humanity in a positive light and on an upward journey.
Click here to learn more about Gary Lee Price and his bronze statues for sale at New Masters Gallery.