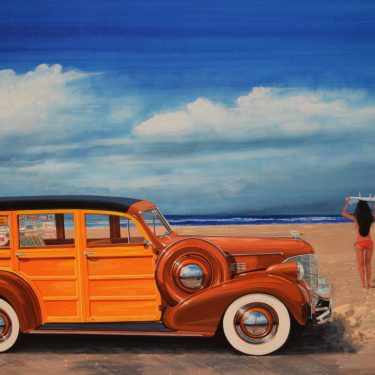 CARMEL, Calif. – July 3, 2019 –
The Automotive Fine Arts Society (AFAS) is expanding accessibility to member works by moving its legendary show during Monterey Collector Car Week to the New Masters Gallery in Carmel. The free exclusive art show, entitled, "Old Masters at the New Masters," will begin on Saturday, August 10 and continue through Sunday, August 18.
"For many years, AFAS member pieces were primarily available only for a few hours on the Pebble Beach Concours green during Collector Car week," said Ken Eberts, AFAS president and founding member. "With so many events now occurring across the Monterey Peninsula, it is difficult for patrons, fans and collectors to enjoy the show. Moving our show into Carmel and expanding the days it can be seen allows us to better feed the growing demand for automotive fine art. The 'Old Masters at the New Masters' show will make great art even more accessible to our global audience."
While the location may be new, the focus of AFAS's show continues uninterrupted. Member artists will show pieces that transform many of the automobiles celebrated during Monterey Collector Car Week into the rarefied realm of art.
"While there has been a great deal of reporting and speculation on new automotive technologies, automotive design continues to seduce consumers, both in showrooms and on the road," said William Motta, AFAS board member. "And within the global automotive market, design differentiation continues to be a prime motivator for many when choosing a vehicle. While countless cars and trucks have been sold on the merits of their appearance, only the finest designs can be appreciated and reinterpreted by the artist's eye while filtered through the viewer's imagination."
The AFAS show's title, 'Old Masters at the New Masters', reflects both the years many AFAS members have been perfecting their craft and the show's venue, the New Masters Gallery in Carmel. The gallery, opened in 1974 by Bill and Jennifer Hill, began in a small space featuring six local artists. That modest beginning and subsequent growth parallels AFAS history; it began with a handful of artists and has grown into an international membership satisfying a global demand for automotive art.
"This will be the largest exhibit of automotive fine art available to the general public to enjoy for free during Monterey Collector Car Week in history," said AFAS board member Richard Pietruska. "We love the synergy expressed in the show's title and appreciate the efforts of Bill and Jennifer Hill in elevating the appreciation of art, in all of its many forms."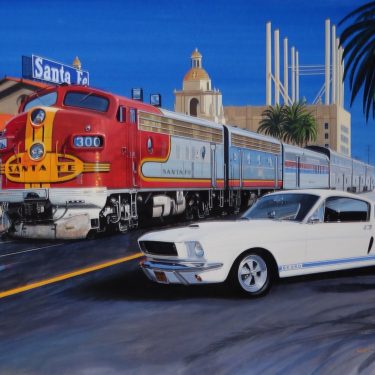 Artists showing pieces at the New Masters Gallery include:
Dennis Brown
Sandrine Blondel
Yahn Janou
Dan McCrary
Richard Pietruska
Tony Sikorski
While the AFAS show continues to reflect the collective passion for automotive history, the New Masters Gallery exhibit allows member works to be viewed by those visiting the area for the Pebble Beach Concours, auctions and vintage racing at their own pace. It also gives those residing in or visiting Carmel, long known as one of the West's most established art communities, the opportunity to see the pieces without purchasing an event ticket.
The AFAS exhibit opens at the New Masters Gallery at 10:00 a.m. on Saturday, August 10 and closes at 5:30. Those hours will continue through Friday, August 16. On Saturday (August 17), the exhibit again opens at 10:00 a.m., while a reception honoring the latest AFAS artists work begins at 4:00 p.m. and concludes at 6:30. The reception has evolved into a popular hotspot for celebrities, art collectors and industry leaders to preview and purchase the latest AFAS pieces. The gallery is located at Dolores St. between Ocean Ave and 7th St in Carmel-By-The-Sea, California.
Created in 1983 by six artists, the society made its first appearance as a group at the 1986 Pebble Beach Concours d'Elegance. Remaining very involved with the Concours, AFAS is comprised of more than 25 incredible artists. All continue to create truly innovative and stunning pieces of automotive art, celebrating most – if not all – automotive genres.
About the Automotive Fine Arts Society
AFAS was established in 1983 by a group of artists who are acknowledged by critics to be among the best in their field. Members work in many diverse mediums including oil, watercolors, acrylics, wood, gouache, pen & ink, clay and metal. AFAS and its members participate in select shows across the world. Information about AFAS is available at www.autoartgallery.com.
# # #
Media Contact: Scott Black | 214.520.3430 ext. 3030 or sblack@tprm.com